Hey all,
Im looking for my first bike and i just went and check this bike out:
https://www.gumtree.com/p/piaggio-motor ... 1315232770
Overall looked good.
Has FSH
2 keys plus card manual
1 owner
10 km mile
A few bumps and scraps.
see some pics below
What do you guys think of the small scraps?
Any question i should ask about the bike?
Guy mentioned that the panel can be replaced for 35£ but not something i would do necessarily.
What do you think of this as a first bike and thoughts on the price pls!
thanks so much!!!
PS im a compete novice!! i just completed my UK CBT last week so very cautious
Attachments

IMG_1852 - Copy.JPG (31.29 KiB) Viewed 934 times
---
---
Benefactor
Posts: 1135
Joined: Thu Aug 16, 2018 6:15 am
Current Ride: Sym Citycom 300
Location: Pikeyville
I'd go for Honda sh 125 instead .Less of a magnet for thieves and less rusting

Its better to be a "Has been " than a "Never Was "

---
Benefactor
Posts: 5912
Joined: Wed Apr 08, 2009 3:50 pm
Current Ride: T-max mk6
Location: Teesside UK
I'm always wary of anything from Gumtree!! I guess that anything is prone to getting scrapes in the London combat zone, so I guess what you see there isn't that suspicious. I've no idea about Vespas, but I find the idea that any panel can be acquired for £35 a bit eyebrow raising! Panels (at least on non-Chinese plastic bodied scoots) have a tendency to be horrific prices! With a metal body, in theory, the panel can be rubbed down and repainted, though doing a good job requires a modicum of skill, so it would rule me out!
To an extent its up to you - do the scrapes bother you or not. However, remember that they will affect the trade in / resale value when you want to get rid and buy something bigger. No idea about Vespa prices, but check that you aren't paying over the odds now.
As for Vespas in general, I guess you either get them and love them, or you don't. I'd probably look for something like an Honda S-wing / Forza / Yamaha X-max, Peugeot CityStar or similar - more performance and load space. As has been stated, Vespas in London are serious thief magnets, so advanced security measures are vital!!!!!!
---
Benefactor
Posts: 5912
Joined: Wed Apr 08, 2009 3:50 pm
Current Ride: T-max mk6
Location: Teesside UK
PS Exhausts always get scraped. This one looks like it'll rot through before long anyway!
---
@ MrGrummy -thanks for the advice. i guess i like the look of the vespa! Like you hesitant on Gumtree
---
Benefactor
Posts: 3595
Joined: Thu Aug 05, 2010 1:57 pm
Current Ride: NC 750 dct c90
Location: scruffy old mancfester
I think its a bit too expensive for a 125 considering miles and condition, and agree that a honda would be a better option and maybe cheaper to insure.
Im not a gynecologist, but I dont mind taking a look.
---
Posts: 425
Joined: Thu Mar 10, 2011 4:48 am
Current Ride: Aprilia Atlantic sprint 500
Location: South West
Sounds a bit expensive. 6000miles in two years is quite a lot for a 125.
---
Benefactor
Posts: 1010
Joined: Wed Jan 06, 2016 7:58 am
Current Ride: Honda sh300i
Location: Balloch Scotland
Personally I think that the scooter looks rather tired and weathered - looks as though it is stored outside and as a consequence it's starting to deteriorate - it sports no extras like a Vespa flyscreen or rear luggage rack - at £2500 I definitely think you could find something more attractive - there are a few private sale Vespa 125s currently on sale in the London area on biketrader - one having covered only 683 miles in nearly prestine condition for £1800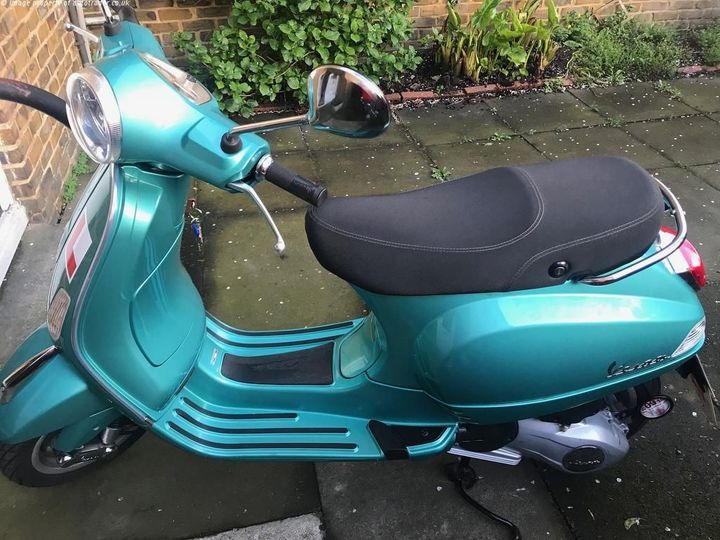 ---
I'm a massive Vespa fan & currently ride a GTV Sei Giorni 300, rust is a problem & I treated mine with Dinitrol & ACF 50 from new. As stated there are better value & performance 125's out there (same applies to my 300!). Lot's of 125 GTS scooters crop up for sale on the FB GTS Owners Forum & good advice is (generally) given there. Certainly there are folk out there asking way too much for what they are selling, it's worth spending a bit of time researching what you can expect for your ££££
---
---