Admin
Posts: 883
Joined: Sun Mar 22, 2009 3:50 pm
Current Ride: Burgman + Cub90
Location: Brighton, South Coast UK
---
Benefactor
Posts: 5868
Joined: Wed Apr 08, 2009 3:50 pm
Current Ride: T-max mk6
Location: Teesside UK
Ah thanks. My mind playing tricks again. The Aprilia incarnation had almost escaped my mind entirely despite being more recent than the Gilera!
---
---
---
Posts: 137
Joined: Sun Jun 14, 2009 3:37 pm
Current Ride: Big burger aka the armchair
Location: Chichester west sussex
Wow thanks for the reply's, the one in the review is the same colour as mine, looking forward to getting it tomorrow , but if fun and unusual, yes the latter ones went over to the Aprilia srv 850 which looked liked the rsv 1000 from the front , some people modify them by grafting 2 x piaggio x9 500 barrels on the lump.. I think it's a bit more than bolting them on tho.. will post up later on I'm riding back from the new forest to Chichester, my mate has a srv
---
Admin
Posts: 883
Joined: Sun Mar 22, 2009 3:50 pm
Current Ride: Burgman + Cub90
Location: Brighton, South Coast UK
I seem to recollect that it was a bit of a faff to change the front sprocket when a chain & sprocket change became due. It was inboard of bearings that had to be removed from a housing.
That's why the GP had a chain and sprockets that were over engineered, and far more substantial than they actually needed to be.
That's what I remember being told b y two dealers at the time, but it could be something that has morphed over time in my mind.

Jim Crowther, long term contributor on Modern Vespa forum had one. He would be the person to ask if you need clarification.

---
Posts: 137
Joined: Sun Jun 14, 2009 3:37 pm
Current Ride: Big burger aka the armchair
Location: Chichester west sussex
Went out on her today and I must say I am generally very impressed with the ride , the engine is sooo under stressed, small throttle movements sees you inhaling the horizon at an alarming rate for a scooter .. or indeed most modes of transport... suspension is way better than most of my previous maxis, she's also comfy to I'm 5,12. Wind protection 5/10 I have ordered a givi so watch this space .. u see seat storage 3/10 just about a full face lid (no intercom on side) so yeah a real squeeze but the originality and fun factor out weigh negatives, mpg to follow and screen update but they may be later.... much later... as shipping from Italy and it's holiday season atm... night all
---
Benefactor
Posts: 5868
Joined: Wed Apr 08, 2009 3:50 pm
Current Ride: T-max mk6
Location: Teesside UK
Yes, let us know. They aren't a common beast on here!
I recall now that I had a test ride on the Aprilia Mana, which has/had the same engine and transmission. I recall that it did accelerate wonderfully quickly from rest, but I found it very frustrating to ride on twisty roads as there seemed to be terrible lag in the transmission between you twisting the throttle and any drive resulting! I was finding I'd go into corners, twist the throttle but nothing happened so I'd lumber along 'in neutral' as it were, making cornering slow and aggravating. I've seen other people mention this, but it may of course depend on your riding style as to whether it is an issue for you.
---
Posts: 137
Joined: Sun Jun 14, 2009 3:37 pm
Current Ride: Big burger aka the armchair
Location: Chichester west sussex
I can say you need little twist of the wrist to make progress on this one it holds a line well through the corners to, the drive is instant on the gp , I took my daughter out last night she just touched the pegs as the seat is so wide , she's 10, she loved it , need a top box ... , not going to get much use at the moment as work is flat out and the weather is not playing summer time but typical August .. I'll await September
Indian summer again hopefully
---
Posts: 763
Joined: Wed Oct 09, 2013 6:05 pm
Current Ride: Tmax Mk3
Location: Coarsegold, California USA (By Yosemite)
Contact:
Mana had a computer controlled variator, like the Burgman 650. I also test rode a Mana and was underwhelmed...

The GP 800 and Aprilia SRV 850 are classic variators...the SRV 850 actually came with Dr. Pulley sliders from the Factory!

(note the word PIAGGIO stamped into each slider...)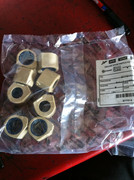 2009 Tmax with OODLES of upgrades!
2009 Majesty 400 (sold)
2007 Aprilia Mojito 150 (sold)
---
---