Posts: 30
Joined: Wed Apr 15, 2009 10:55 am
Current Ride: TMax BMW R1200GS Aprilia RSV4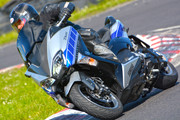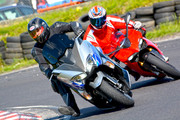 Guys .... last year I was hit by a car while out cycling and badly injured, including a head injury that caused me to have a stroke affecting my left side, this affected my gearshift foot for my regular track bikes, so i took my TMax to the Three Sisters instead. It went well, just decked out a bit too early, but surprised most of the bike riders !
---
Benefactor
Posts: 3630
Joined: Thu Aug 05, 2010 1:57 pm
Current Ride: NC 750 dct c90
Location: scruffy old mancfester
Sorry to here about your accident, but glad your enjoying the t-max to the full , they are just as much fun as a bike.
Im not a gynecologist, but I dont mind taking a look.
---
Benefactor
Posts: 1847
Joined: Fri May 28, 2010 7:03 am
Current Ride: XMax400 - SH125
Location: SE London
Glad your are back up and on it with what best suits your needs...
3 Sisters... often used for supermoto a bit like Lydd and Lydden. Sounds like fun!
I did a Ride Skills day with Kent Fire and Rescue at Brands Hatch... I had done their Biker Down First Aid course previously...
So got to go round Brands Indy on the XMax400, Paddock Hill Bend and mind the centre stand!
Had done supermoto day at Lydd and Brands Hatch on a CCM - Scooter 'twas different!
---
Posts: 30
Joined: Wed Apr 15, 2009 10:55 am
Current Ride: TMax BMW R1200GS Aprilia RSV4
Cheers guys, my foot movement has improved since the day at the Three Sisters, and I have been out at Croft & Cadwell since on my KTM. The TMax was fun on track and I would do it again. A few years ago I was on my KTM at Almeria Circuit in Spain and the local TMax club were out on track mixing it with the bikes, they were very capable, so that encouraged me to take mine on track here.
---
Posts: 1131
Joined: Wed Apr 08, 2009 1:10 pm
Current Ride: skyteam dax
Location: Newcastle upon the toon
I done 2 track days at Croft on my ktm 950sm before i bought my Tmax in 2008 then they got took to court and almost went under, start charging 200 quid a track day after that so put my plans of tmaxing it around there in the shitter, was dying to take mine around, maybe one day.
Dezzie
---
Posts: 50
Joined: Sat Apr 12, 2014 7:08 pm
Current Ride: SH300
Location: Canterbury
Looking forward to doing the Nurburgring on the sh300 next month, will be slower than an R6 or something but fun.
---
---