Posts: 138
Joined: Sun Jun 14, 2009 3:37 pm
Current Ride: Big burger aka the armchair
Location: Chichester west sussex
---
Benefactor
Posts: 654
Joined: Wed Mar 25, 2009 5:04 pm
Current Ride: Suzuki Burgman 400
Location: Leicester, UK
---
Posts: 102
Joined: Mon Sep 24, 2018 12:21 pm
Current Ride: Kawasaki J300SE + NC750X
---
Benefactor
Posts: 6205
Joined: Wed Apr 08, 2009 3:50 pm
Current Ride: T-max mk6
Location: Teesside UK
riders in the storm

wrote:

↑

Sun Aug 04, 2019 10:51 am

Had to Google this....

839cc Ducati engine in a Scooter, wow....!
A Ducati engine??? I think that's one of those internet 'facts' rather than a real one. !! For one thing there isn't any commercial link between Ducati and the Piaggio Group, AFAIK.
---
Posts: 102
Joined: Mon Sep 24, 2018 12:21 pm
Current Ride: Kawasaki J300SE + NC750X
---
Benefactor
Posts: 1449
Joined: Wed Jul 07, 2010 1:19 pm
riders in the storm

wrote:

↑

Sun Aug 04, 2019 12:52 pm

Oh........!!

But there must be something good about it surely...? With such a massive engine......??
I had the aprilia mana with the same engine. Very fast and smooth. I still wonder whether to get another

---
---
Admin
Posts: 1142
Joined: Sun Mar 22, 2009 3:50 pm
Current Ride: Burgman + Cub90
Location: Brighton, South Coast UK
Blimey! I reviewed a GP800 on the old Maxi Muppets forum when the GP was first introduced in early 2008.
Sorry if this doesn't fit the criteria for scooter reviews but feel free to move it or whatever if it infringes any standards or offends anyone.

I rode the Nexus along the windswept A27 into Brighton and to CD Scooters to pick up the GP800 for the day. My intention was to ride the GP on routes I ride regularly on the Nexus, and have ridden time and time again on previous bikes, to get a decent comparison.

Showing me around the controls didn't take long. Basically it's the same as the Nexus without the onboard computer features. One thing of note, it has a parking brake. This was to be useful during the time I had it. Oh, and it has an electric screen too, which I'd imagine most folk will forget about past the initial novelty and leave it in the middle or fully up or fully down depending on where they do most riding. The exhaust note is sublime. I abhor loud exhausts these days so the V twin rumble emitted by the GP800 is pure music.

It feels nice straight away. Solid and purposeful. Feet up and off and the first thing I notice is how wide and high the tunnel is. This may cause my bad knee some issues if I can't manoeuvre it enough.

Feet positions and legroom are better than the Nexus apart from that, and a semi feet-forward position is possible, though not to the levels of Burgmans or X9s for instance.

In light traffic the GP is a joy. Stable and not difficult to filter in and out of slow moving cars. It is perfectly happy to be bimbled along at low speed, feet up with no instability whatsoever. Up to 4000 revs you can feel and hear the V twin motor blatting along beautifully

Onto the A27 , battered by a Northerly breeze of some intensity and some more first impressions. Bloody hell, it rolls speed on rapidly from 30mph up to 70-ish (give or take the odd 10mph), and it suffers from sidewinds much more than the Nexus…..and any other bike I've ridden come to think of it!

Real heart-in-mouth time as I overtook cars on the A27 at speed. The bike crossed lanes with any blast of the high winds. That said, it was unusually windy today, and the gusts over the Shoreham flyover today were pretty unusual even for these parts so it is unlikely it would be a significant issue for most riders. Again though, the Nexus isn't affected to that extent so I'm guessing that the side-on aerodynamics are a bit different.

On the A283 and the A272, sweeping bends and periods of very little traffic, the GP is immense. If 30mph roll-on acceleration is impressive, 60mph roll-ons are just as impressive! The motor spins up to 7000 rpm then the auto box catches it up. The result is very addictive indeed!

The bike handles superbly, doesn't feel particularly heavy, though you know there is some weight there. I had a Valkyrie which was the same in that respect, planted and solid when moving when the weight ceases to matter that much.

The wide tunnel and consequent riding position was beginning to make my knee twinge a bit. Not the agonising pain that comes when I ride a Harley, not even the uncomfortable ache that appears when I ride mates' Jap bikes but a twinge nonetheless, due to having less lateral knee positions than my Nexus, which is just about perfect in that respect.

The winds on the A272 got a bit breezy in places and the front end got very twitchy on fast sweepers. I noticed later that I'd left the screen on the highest setting so maybe I was getting some aerofoil effect. Had I bothered to adjust the screen to say mid position it may well have been different altogether. The back end skipped out a little under power on fast bends but no more than any other bike I've had, bar the Triumph Sprint RS which used to just stick wherever you pointed it. The GP never felt like it was going to get out of shape, front end twitches notwithstanding, which was reassuring.

Talking earlier about 60mph roll-ons and the motor spinning up to 7000 rpm. When it does that the motor is turbine smooth, much more like a triple for instance than a V twin. It revoked memories of the Triumph more than my Buell which would have committed Hari Kari at 7000 rpm or at least protested violently!

On the way back I headed off towards Bury Hill and the sweeping uphill bends towards Whitehaven after filling up and realising that the filler cap is under the seat. Nowt wrong with that unless you slip or overfill and whatever you have in the underseat bay gets coated in Murco's finest premium juice. Thankfully I was wary and stuck £12 worth in without spilling any. The centre stand is a bit heart stopping to use as the beast is so damned heavy to hoik up on it. It probably just needs technique but this was the first and last time I tried it thanks to the sidestand and parking brake combination.

The underseat bay is around the same size as a Nexus. It will take a full face lid, even the flip-up Takachi of mine with its spoilers and vents plus some gloves or summat else small. There is a 48 litre top box available allegedly which is undoubtedly a rebadged Givi. Whether that spoils the bike's lines is a matter of opinion. I've had my Nexus with a top box on almost since new because it provides a decent pillion backrest and I like the looks of it. Yer pays yer money etc etc

The seat looks pillion friendly too, as do the pillion peg positions. The Nexus seat is loved by my regular pillion and although she didn't try this one it is similar enough to win approval mereckons. For the rider the bumstop is much more noticeable on the GP. Not uncomfortable just, well, there.

At Whitehaven I parked up with a few bikes and nobody noticed the GP whatsoever. The lairy red Nexus always has somebody looking incredulously and gasping that it is a 500cc scooter. The GP is much more understated and only the exhaust burble sparked a question of "V-Twin?"

I parked up at Amberley to take some photos, though and the GP immediately drew a small audience of old Brit Iron riders wanting to chat about it. One had just bought a Deauville as his main bike and wished he'd had the balls to put up with his mates' ribbing and gone for the Burgman 650 he really wanted to get.

A blast up the A24 gave me more chance to play at ripping up from 60mph to …erm, whatever and surprising a few cagers along the way. The GP is much faster than the Nexus but a check on the time revealed I hadn't covered the distances I'd done any quicker than the Nexus. I'd decided to try swinging around the bends down from Partridge Green. This road is much twistier than the A272 being a local B road and big fast bikes often have no advantage there whatsosever. The GP was smile-inducing and effortless but here was really where I noticed the weight compared to the Nexus in particular.

My mate Big Andy used to have an acid test of a Valkyrie's or Goldwing's acceleration, being what speed he could wring out of them between speed bumps on Shoreham Airport Road. It proved an acid test of the bike's brakes too as hitting a speed bump too fast could knock yer fillings out!

Though I was wary about abusing a demo bike and probably braked a bit early I still managed a figure that the big fella would have been pleased with and all done sooooper smooth and with no snatchiness. I was glad of the interlude too. My thigh had cramped up at one point coming back on the A272/283, possibly due to me holding my knee in a position that didn't cause pain.

I fancied taking the odd arty shot with the GP800 standing with the sea as a backdrop but let's face it my photography skills are c-r-a-p and finding a bit of Shoreham beach without a bulldozer pushing pebbles around or a mountain of wood from a overturned freight ship is a tough job so I decided to drop in at Carat's Café for a cuppa instead and just shot the GP next to a sign saying "beware of submerged objects" that I promptly cut off the top of the pic…oh well!

Caling it at Chez Capitano I wanted to try the GP on my drive. So errrrr why? To get my bikes down to my garage they have to go down a pretty wicked sloping drive….backwards. With every bike I've had so far it hasn't been a problem. In fact the Valkyrie, my last Harley and the Nexus I just pushed backwards once, pulled my feet up and coasted down backwards, as stable as you like.

The GP however had other ideas. I have never encountered a bike so damned stubborn to move from a standstill under foot power. Never mind my bad knee, the good one ached after manhandling the GP into position. Again, probably me being wary but it didn't inspire me with enough confidence to go feet up the whole way down.

Partly because I didn't want to take the GP on he A27 with the fierce cross winds again and partly because I wanted to try it out in heavy traffic I chose the seafront road back through Brighton.

Replete with pre-Spring roadworks and more traffic lights than you can count plus every kind of moron driver this is a great test of a bike in traffic. I expected the GP to be inferior to the Nexus but it wasn't. Far from it in fact.

No strangled sealion noises, no jerky blasts to eliminate said noises just pure smooth rolling pleasure from a standstill and at crawling speeds. It steers lightly too in total contrast to how it behaves not under power. This means filtering and making progress in heavy traffic is a complete doddle. Hardly surprising given the perishing cold but the temperature gauge didn't shift up one bit either.

I even took a few detours up and off the Steyne, such was the sheer joy of getting through traffic with absolute ease and in comfort. A blissful way to end the demo.

Back at the shop I figured I'd better find out what the damage would be to px my '06 Nexus against a new GP with topbox and rack. Best part of 5 Grand is the answer, not surprisingly, and it wouldn't be for a month or more anyway and 3 months if I wanted a black one.

So, as good as I thought? Yes definitely. Worth six and a half big ones? Definitely! Worth the premium over a new Nexus? Again, definitely, the GP is real quality and I didn't mention the chain once 'cos quite frankly til it's 18000 miles old and needs the front sprocket changing it ain't worth mentioning!

Worth 5 grand on top of my Nexus and will I buy one? The jury is out on that one particularly as I jumped back on the Nexus expecting it to be dog slow and rough in comparison. Instead it was like jumping back on a Supermoto after riding a big tourer and was faster down the A27 simply because it didn't suffer the sidewinds so much. Oh and the knee twinges disappeared completely once back on the Nexus.

So, we'll see. 2 years on a Nexus have proved to me that I don't need anything bigger, more powerful, better equipped etc so buying a GP800 would be pure indulgence, but a very impressive indulgence!.

To put the price in perspective if my knee were better I'd be seriously interested in a Suzuki GSX600F. I could buy a new one and keep my Nexus for less than the price I would pay to chop in the Nexus against a new GP. Or I could buy a secondhand Buell City X and keep the Nexus….or an early model R1 the list goes on.

However I probably wouldn't bother. The choice for me is keep my Nexus (that I have been blissfully happy with for 2 years) or px against the GP? As good as the GP is my heart sways towards hanging onto the big single a while longer because I enjoy riding it so much, and selling a perfectly good motorbike is never a natural act!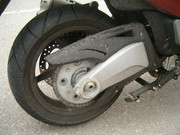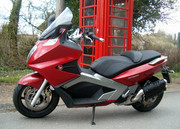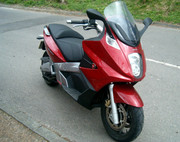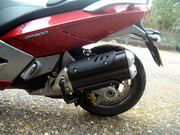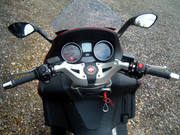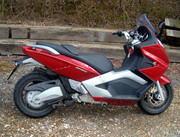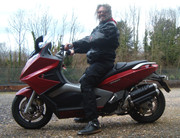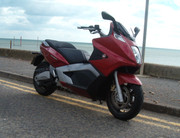 ---
---
Admin
Posts: 1142
Joined: Sun Mar 22, 2009 3:50 pm
Current Ride: Burgman + Cub90
Location: Brighton, South Coast UK
---